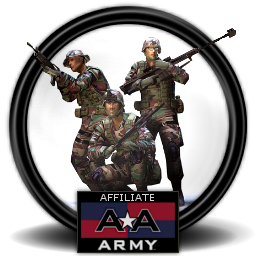 Hi ho and welcome back!
Since launching my site I've been focusing on building traffic for free. In today's video I share with you one strategy that I'm using to help drive traffic to my site.
Now there are many different ways you can drive traffic to your site (both free and paid) and this short video explores just one way.
Have a look, tell me what you think and if you have any cool strategies on driving traffic to your site please share in the comments section below!
Video: How to get an affiliate army to drive traffic to your website
Mobile users please click this link to watch the video: How to get an affiliate army to drive traffic to your website
httpv://www.youtube.com/watch?v=ehMJv3lNaWM
Transcript:
Click here to read the transcript
[spoiler]Have you ever wanted your own Army?
Well, inside today's video I'm going to share with you one method I'm using to help build my own affiliate army to drive me loads of traffic to my new website.
Hi, Nick here from InstantProfitPeople.com where you can learn with me direct from the experts about Internet marketing and inside today's video, I'm going to share with you one traffic building method that I've been learning and implementing that I've learned from my mentor.
So come inside and have a look.
Now we all struggle with getting traffic to our website and it's something we have to work out creative ways to get people to come visit our website.
It can be tough as there's a lot of competition out there but it's not impossible. One method I'm using is to build an affiliate army to help drive me traffic and one way I'm doing that is by having everyone who signs up on my website become an affiliate automatically.
This means that once they download the interview, the transcript or the product they will automatically be able to then promote the product and receive financial commissions while doing so if a sale is made.
So how this works is this.
You have a product for sale or a product for free. You allow people to access that product and when they sign up to a membership to access the product they then are automatically registered as an affiliate. You then encourage those people to promote and let them know that there's a financial reward for promoting if subsequent sales are made from people they refer.
It's quite easy to get the computer programming to automatically set up the affiliate program all up for you so it's not that technical if you just outsource and get someone to do it. Then you get everyone who has download the product to automatically become an affiliate then get a portion of them who are going to promote the product, and inside the member's area, you give banners, email scripts and other tools they can use to help promote. Make it as easy as possible for them to promote your product. Give them scripts, pre-written articles whatever you can that will help them promote the product.
Think of it as a bit of a franchise so you go to McDonalds and you got one shop but if you got a number of shops you can make a lot more sales. So an affiliate army works like a franchise. You got a number of people all promoting your product so there's a lot greater chance of making sales and building your business quickly.
So there we go. That's one small tip I'm using to help build an affiliate army. There are other ways to do it which I will share with you other times but I hope you got something you could use out of that.
Stay tuned because next week I'm going to talk to you about a tool I've been using in gmail called canned responses. I'm going to show you how to set that up and how you can use it to save you some time in your business so you could spend it doing other things like getting out to the great outdoors.
See you online, see you next time!
— End Transcript — [/spoiler]
Subscribe and leave a comment:
Thanks for watching. Make sure you don't miss any other videos by subscribing to our youtube channel here or sign up to this blog over on the top right hand side of the page. 
Also please leave a comment, question or feedback. I'd love to know what you're thinking!
See you online, Nick